Bio: Born and raised in Stockholm, Anna Sörenson received her BFA from Umeå University in Sweden. In 2012, Anna received her MFA from Pratt Institute, New York supported by her Fulbright Scholarship. 2014 she graduated from a.pass, a yearlong post-master program in performance art in Brussels, Belgium.

Since 2012 she is represented by Ed Varie in New York City. She has exhibited her work in Stockholm, Brussels, Berlin, Paris, Mexico City, Miami and New York.

She currently lives and works in Stockholm together with artist Daniel Rydh. Together they operate under Rydh/Sörenson and have exhibited their work in Brussels, Spokane, Los Angeles and New York.

Contact: sorenson.anna(at)gmail.com
Interview: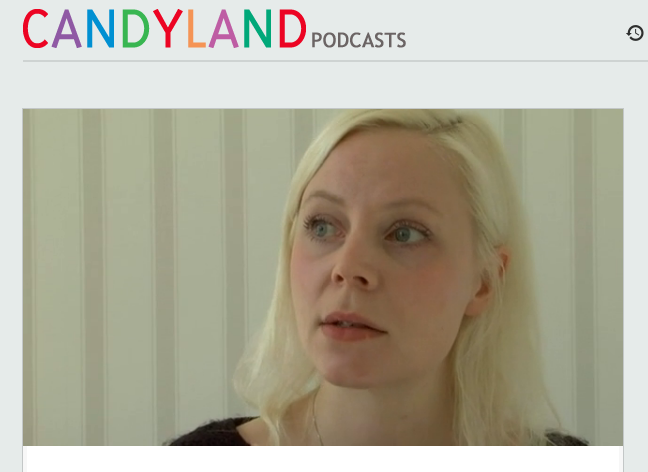 CANDYLAND Stockholm's podcast series on art visited me in Stockholm to talked about my performance  "Your Application is Pending". Watch the full video on vimeo, itunes or CANDYLAND's website.
Exhibition, Solo
Land i Sikte, Rydh/Sörenson at The Nordic House, Faroe Islands, Denmark, 2017
Apocalypse, Rydh/ Sörenson, Ed Varie, Los Angeles, USA, 2017
I See Water, Rydh/Sörenson, Ed Varie at Beverly's, New York, USA, 2016
Float, part 3, Rydh/Sörenson, Window Dressing, Spokane, WA, USA, 2016
Float, Rydh/Sörenson, Saranac Art Projects, Spokane, WA, USA, 2016
Dichroic Ripple, Rydh/Sörenson, Ten Weyngaert, Brussels, 2015
The Departments of Anna Sörenson, Candyland, Stockholm, 2014
The Neverending Index, Ed Varie, New York, 2014
Your Application is Pending, Cigarrvägen 13, Stockholm, 2013
Suitcase Paintings, WIP Konsthall, Stockholm, 2013
Recording of Material Location, Opus Gallery, New York 2012
Valence in Everyday Objects, Ed Varie, New York, 2012
Marsh 5-9, Collage och gouache på papper, 106 x 113 cm, DeKalb Gallery, 2012
Exhibition, Group
"26 Contemporary Artists", Enter Art Foundation, Stockholm, 2017
'Salón De Artistas y Libros Seleccionados', Ed Varie, Mexico City, 2016
'OPUS – DUAE', Opus Project Space, New York, 2015
'OPUS- UMUN', Opus Project Space, New York, 2015
'Quality Control', together with Lia Forslund, Royal Collage of Art, London, 2015
'Drawing Dialog Pieces', together with Ingrid Ogenstedt, Ciggarvägen 13, Stockholm, 2014
'Drawing Dialog Pieces', together with Ingrid Ogenstedt, Imigration Offiec, Bremen, 2014
'Thresholds', Graduation exhibition at a.pass, Posthogeschool voor Podiumkunsten, Brussels, 2014
'Double Take', Youme Haus, New York, 2014
'Salon Sélectionné, Ed Varie, Paris, 2013
'Your Application is Pending', at PRESERVATION, Ed Varie, Miami, 2013
'Your Application is Pending', Paulig Residence, Brussels, 2013
Color War, Recession Art, New York, 2013
Alternative Galleries, Galleri Verkligheten, Umeå, 2013
Graduate Fine Art, group show, Pratt Manhattan Gallery, New York, 2012
Paper:Work, group show curated by Kelly Worman at Ground Arts Organization, 2012
Postcards from the edge, a benefit for Visual AIDS, hosted by Cheim & Read, New York, 2012
Excavation: Artifact, group show, curator Lindsay Aveilhe, Ed Varie, New York, 2012
Vårsalongen, Liljevalchs Konsthall, Stockholm, 2012
No Trend, group show, curator Jamilla James, Steuben South Gallery, New York, 2011
Tourist Attraction, Künstlerhaus Bethanien, Berlin, 2009
Light Club, Galleri 60, Umeå, 2009
MADE, Norrlands Operan, Umeå, 2009
Homeland, at Death by Audio, Williamsburg, New York, 2008
Vårsalongen, Liljevalchs Konsthall, Stockholm, 2007
Vårsalongen, Liljevalchs Konsthall, Stockholm, 2008
Grants and Awards
Pratt Institute International Scholarship, 2012
Minimalism and Land art workshop series, project founded of the American Embassy in
Stockholm, 2011
Pratt Institute Fine Art Department Scholarship, 2011
Fulbright Scholarship, 2009
Fredrika Bremer Scholarship, 2008, 2010
Anna Whitlock Scholarship, 2008
Petersenska Hemmets Scholarship, 2008, 2010
Residencies
Tjørnuvík Artist House, Faroe Island, Denmark, 2016
Laboratory, with Rydh/Sörenson, Spokane, 2016
Bains Connective, with Rydh/Sörenson, Brussels, 2015
Art Prison, Helsinki, Finland, 2015
Bains Connective, Brussels, Belgium, 2015
The Wassaic Project, Wassaic, USA, 2013
Vermont Studio Center, USA, 2012
Publication
Line and Verse at Andréhn-Schiptjenko, published at Painting is Dead
Creating a Shift of Perception: Rydh/Sörenson on Olafur Eliasson, Published in Chevet Magazine, 2017
"Environmental Ephemeral", catalogue founded by Stiftelsen Längmanska kulturfonden, 2017
"The Order of Things and All That", Lia Forslund, Tunica Magazine, 2014
'The Therapy Sessions', a catalogue based on the video 'Therapy with a bureaucrat', published by a.pass, Posthogeschool voor Podiumkunsten, Brussels, 2014
'Thresholds', graduation exhibition catalogue published by a.pass, Posthogeschool voor Podiumkunsten, Brussels, 2014
Participate in the publication, 'Scores', published by a.pass, Posthogeschool voor Podiumkunsten, 2014
Participate in the publication 'Teorier, metoder och praktiker', Konstfack University, Stockholm, 2011
Articles at www.omkonst.com, an artist run webpage for art criticism, 2010
Three full page illustrations in the National Universities Board's annual catalogue, 2008
Article and illustrations in Dans Tidningen nr 2/2008, translated in to English, published in
German Ballettanz, 2008 regarding the works of Tino Segal
Education
a.pass, (advanced performance and scenography studies), Posthogeschool voor Podiumkunsten, Brussels, 2013-2014
Pratt Institute, Brooklyn, New York, Master of Fine Arts, 2010-2012
Konstfack, Teorier, metoder och Praktiker, Stockholm, 2009-2010
Umeå Konsthögskola, Umeå, Bachelor of Fine Arts, 2006-2009
Parsons the New School for Design, 2006
Gerlesborgs Konstskola, Stockholm, 2004-2006
Basis Konstskola, Stockholm, 2002-2004